(And the simple steps to follow!)
Genetics aren't the only way to achieve great skin, but following an appropriate skin care routine is the first step in getting that gorgeous looking, healthy glow. Whether you're a skincare enthusiast or a self proclaimed skincare guru, we all want the same thing and that's healthier looking skin. There's no such thing as 'flawless' skin so when it comes to creating a skin care regimen your main goal should be achievable, while you focus on improving the look and feel of your skin and boosting its overall health.
Focus on:
Treating
Protecting
Preventing
If you've found yourself staring at the mirror assessing every blemish, fine line and wrinkle, asking yourself "How do I find the best skincare routine?", it's time for you to follow the basic steps in creating a simple skincare regimen.  The key to achieving the best results comes from not only receiving routine treatments, it also comes with regularly following these important steps.
Cleanse
Exfoliate (approx 2 to 3 times a week)
Tone (optional, but recommended)
Treat/Serum
Eye Cream
Moisturize
Protect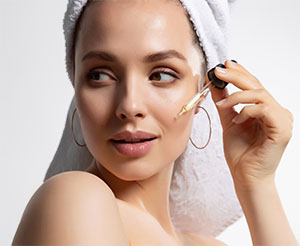 So, let's get started! What's the right order to apply skincare products?
First off, CLEANSING
Cleansing your face isn't referring to using the same bar of soap you use for your body, but instead, using a gentle cleanser that's created especially for your face gently removing dirt, excess oil and debris. Everyday your skin is pilling on dead skin cells, pollutants, bacteria and even makeup residue causing clogged pores and blemishes. Skin should be gently cleansed twice a day, avoiding overwashing which leads to inflammation and irritation. After a sweaty gym session or a long day in the sun, it's also recommended to cleanse directly after. Proper cleansing is essential for cleaner skin and better product absorption.
EXFOLIATE
Helping to unclog pores, remove dead skin, as well as evening out and brightening, exfoliating plays a huge role in achieving a healthier appearance. Although an important step in a skincare routine, when trying to achieve smoother, softer, younger looking skin, gentle exfoliating should be done no more than three times a week. The amount is determined by your skin type and what your skin can handle. Too much exfoliation or harsh products can cause chronic skin irritation, inflammation, excess oil as well as breakouts. It's highly recommended to start off slow, one day a week working your way up, but always listening to your skin. When pores are able to breathe, nutrients, antioxidants and active ingredients are better absorbed.
TONING
This step isn't a "must" for your skin care routine but, coming from a skincare specialist it's highly recommended. What is toner used for? Your skin's PH levels are naturally mildly acidic and with the use of toner you're able to balance out those levels revealing healthier texture and tone. Pores shrink and become visibly diminished, causing your skin to look younger as the tightened pores make skin look firmer and taut. Keeping your skin 'normal', toners can be used twice a day especially when you're ready to apply other products and want them to work better.
SERUM
When using serums, you're guaranteed to have this lightweight, moisturizing product become quickly absorbed, allowing active ingredients to penetrate deeper. Improving fine lines and wrinkles, serums can also help slow down premature aging by using active ingredients that will help improve your individual skin concerns (retinol for tightening, hyaluronic acid for hydrating, vitamin C for brightening). Serums are a great way to allow other products to quickly and easily absorb into the skin both morning and night.
EYE CREAM
Some people tend to focus on moisturizing their face but skip out on an important step…applying eye cream. Eye creams are made especially for that thin skin around the eyes, that needs to be gently cared for. Taking a more gentle approach, you'll be applying a lighter formula using your ring fingers to tap (never rub) the product into the skin to absorb. A great way in treating and diminishing signs of premature aging including dark circles and bags, eye creams can help brighten, tighten and plump the skin making fine lines and wrinkles less noticeable, by using them once or twice a day.
MOISTURIZER
Under common misconception, it's been said that those dealing with oily or acneic skin, just need to "dry out" the problem, but instead will cause more issues. Using lightweight, gentle moisturizers are great even for those experiencing excess oil by keeping skin soothed and hydrated. When a person dries out their skin, they're risking breakouts and even more oil, as production goes into overdrive trying to make up for the moisture lost. By applying twice a day, you're helping keep skin soft and supple with a smoother, more youthful appearance.
SPF
A crucial step in your skincare routine, applying spf before stepping foot outside (regardless whether clouds or sun) helps minimize premature aging and lessen your risk of skin cancers, age spots and discoloration. With sun exposure being the number one factor with aging, taking preventative measures is a must! Look for spf 30+ with both UVA (uv that causes aging) and UVB (uv that causes burns) protection, always remembering to reapply during the day. Sunscreen not only protects but it helps improve the texture and tone of the skin.
When you follow a personalized skin care routine you're making a huge difference in the overall health of your skin, as well as reducing the speed of premature aging.  Think of a skin care regimen as a blueprint for achieving that healthy, fountain of youth kind of glow.  Ready to start on a journey to better skin? Contact us for a professional skincare specialist to not only assess your skin, but help you in creating a custom skincare routine.  Love yourself and the skin you're in.  You only have one life to live, so live it with an amazing complexion!